Re-Opening Friday, February 12 @ 9am!
Masks are now required, when you are not seated at your table, as per the new City of Calgary Bylaw.
Please Keep the Following Alberta Government Regulations in mind:
Mandatory restrictions – Provincewide – Effective Feb. 8
Restaurants, pubs, bars, lounges and cafes can open for in-person service.
Maximum of 6 people per table – individuals must be from the same household or the 2 close contacts for a person living alone.
Tables/dining parties must be 2 metres apart.
Contact information must be collected from one person of the dining party or the individual if they are dining alone.

We will be using CANATRACE™  by GroundLevel Insights. It is an easy form you fill out on your phone. In order to enter the restaurant you must show the hostess the completion screen with a green check mark (please see the images below for a demonstration). Only one person per group needs to fill this out. (Please note: if you are not comfortable using the app our hostess can write out your information for you).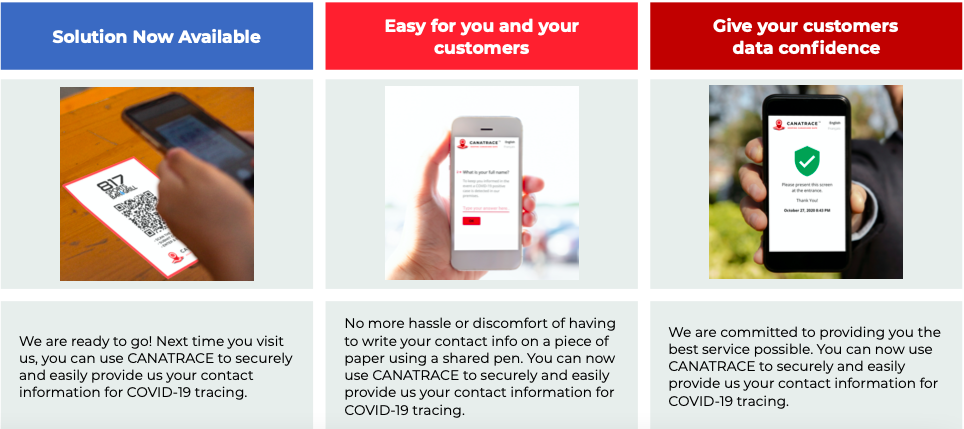 Liquor service ends at 10 pm.
In-person dining must close by 11 pm.
No entertainment allowed (e.g., no VLTs, pool tables, live music, etc.).
---
We are a family friendly, locally owned slice of authentic Holland cooking – known worldwide for our Dutch pancakes "pannenkoeken". New to the western world, these Pannenkoeken are something savoured and remembered by many. We are the only restaurant of its kind in Canada trained in this particular method, which makes us truly unique.
Try one of the suggested combinations from the menu or build your own pannenkoeken. We are full of ideas on how to make your pancake truly unique.
See why Gourmet Magazine has written about us and why we have received outstanding recognition, including "My Favourite Restaurants" in Calgary and Banff, written by John Gilchrist, numerous other articles and reviews. We can assure you that this will be a tasty treat, so go ahead and try one.