In light of the current situation surrounding COVID-19, we wanted to update you on what preventative measures the Pfanntastic Pannenkoek Haus is taking to protect you and our team. As always, the health and safety of our customers and employees, as well as the quality of our product, are our top priority. Rest assured, we are closely following the developments and are taking direction from health authorities.
We have now implemented the following changes:
Mandatory restrictions – Provincewide – Effective Feb. 8. Restaurants, pubs, bars, lounges and cafes can open for in-person service.
Maximum of 6 people per table (yes, babies count towards this number) – individuals must be from the same household or the 2 close contacts for a person living alone.
Tables/dining parties must be 2 metres apart.
Contact information must be collected from one person of the dining party or the individual if they are dining alone.

We will be using CANATRACE™  by GroundLevel Insights. It is an easy form you fill out on your phone. In order to enter the restaurant you must show the hostess the completion screen with a green check mark (please see the images below for a demonstration). Only one person per group needs to fill this out.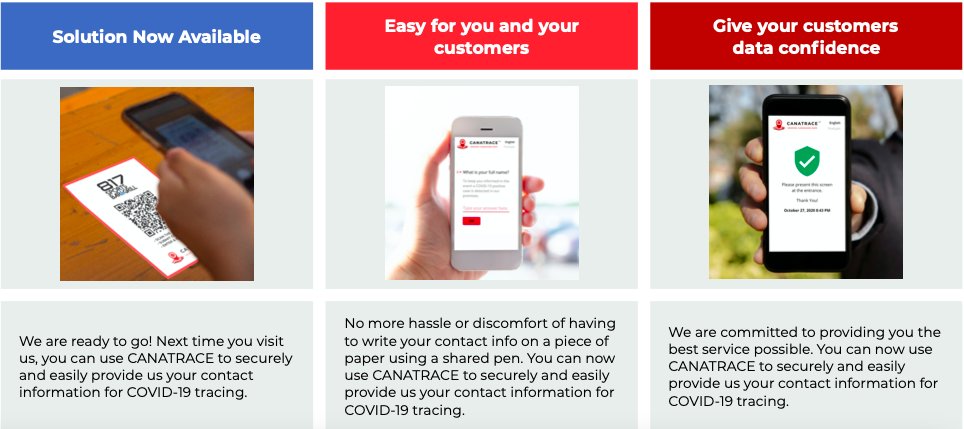 Tables have been re-arranged to ensure the appropriate six feet apart, which means we are unable to move tables around at this time in order to ensure the measurement requirements are met
Aisles are 2m or wider and no items will be permitted at ends of tables (i.e. chairs, etc.) as it blocks the way
Signage will be posted highlighting the importance of physical distancing, washing your hands, etc.
Floor markings will be put where necessary 
During peak times customers will be asked to wait outside or in their car. The hostess will give the option of marking down your cell number to phone them when their table is ready
Takeout will be encouraged and once the customer pays they will be asked to wait in their car and their food will be brought to them
Sample items (i.e. liquorice) will be put away
Customers must ask for assistance getting merchandise rather than touching it themselves 
All employees will be required to fill out a COVID-19 symptom questionnaire everyday before start of their shift
Employees will be trained to practice social distancing, increase hand washing, wear masks if they will be closer than 2m, and are required to stay home if sick
Nothing will be put on tables until after customers have sat (condiments will be available upon request)
Kid's colouring and books as well as newspapers/magazines will be put away for the time being
Hand sanitizer is provided for use at the front door and by the cash register. 
We have enhanced our existing hygiene and health practices, including frequent additional cleaning and sanitizing throughout the restaurant, and in particular high-touch areas
We will continue to routinely clean and sanitize anything regularly affected by human touch including but not limited to menus, computer touchscreens, keyboards, countertops, sinks, cabinet & drawer knobs/pulls, door handles, mirrors, light switches, phones, POS machines, etc. 
We have temporarily switched to a condensed easier to clean menu. Customers are encouraged to look at the menu on their phone in order to the view the whole thing. A limited number of menus will be given to a table. 
Click below to view our re-opening template required by Alberta Government
---
Face Covering By-Law
The Temporary COVID-19 Face Coverings Bylaw (BYLAW NUMBER 26M2020) is in effect on August 1, 2020. This means all customers will be required to wear masks when they are not seated at their table (i.e. going to the washroom, waiting in the lobby, picking up merchandise and/or takeout, etc.).
Of course, there are circumstances where this rule does not apply. We encourage you to visit: https://www.calgary.ca/…/covid-19-city-of-calgary-mask-byla… for more information.
We appreciate everyone's support and compliance during this time! ❤️
*** Please be aware we did not make nor choose this bylaw. It is required we post signage and follow it to the best of our abilities. If not, our business faces fines. Thank you.